BIG BANK BLACK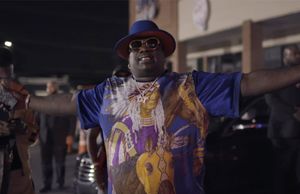 BIOGRAPHY
Atlanta has always been a city with artists that has had strong movements that seemed to willingly put the streets on their backs. Well if your ears are close to the streets, then you might be familiar with a  movement called Duct Tape Entertainment (DTE), founded by Big Bank Black and Alley Boy.  Hailing out of East Atlanta's Zone 6, this family owned company has built enough buzz that the two main rappers finalized 50/50 deals with Atlantic in a 3 month span last year, with no Internet buzz or radio airplay.  Impressive to say the least.
     While attaining numerous notable features on songs from Gucci Mane, CTE, Maino, Wacka Flocka and Rocko to name a few, they have also received cosigns from radio DJ's across the nation. It's clear that (DTE) is right around the corner from national success with a movement as strong as we have ever seen in Atlanta. 
​ 
    Duct Tape Ent co-founder Big Bank has stepped up in a big way with his new 17-song mixtape: King of the Jungle. The tracklist looks promising, especially with all of the high-profile guest spots. Features come from some of ATL's best, such as Future, Quavo, Offset, and DTE's own Trouble. Fetty Wap shows up on the final track, "Never Thought." King of the Jungle arrives shortly after DTE's compilation tape, Duct Tape Infinity. 
PRESS PHOTOS
BIG BANK BLACK SOUNDCLOUD